It's Valentine's day and I am heart broken. I am heart broken anytime I hear of anyone who lost their lives or was hurt due to ignorance and hate.
On February 10, 2015, three young American Muslim college students were fatally shot in their own home by their neighbor, Craig Stephen. These were young, educated, Americans who were active in their larger communities.
Deah Barakat, was a second-year student at the University of North Carolina's School of Dentistry. He helped organize the project "Refugee Smiles." He, along with the UNC School of Dentistry and the Syrian American Medical Society, created a YouCaring.com fundraising effort to provide urgent dental care to Syrian refugees.
Yusor Abu-Salha, Deah's new bride of only 2 months, planned to begin her dental studies at UNC in the fall. This quote of Yusor's is beautiful. It really represents what it's like to be a Muslim American.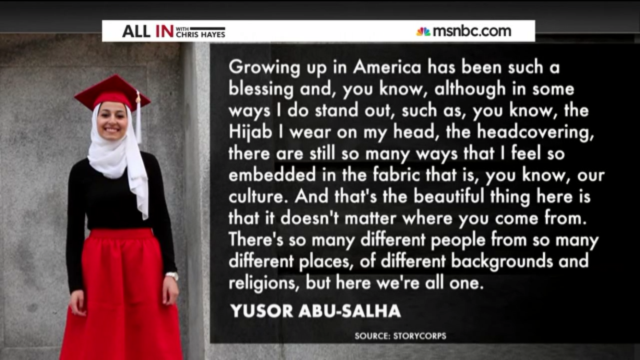 Razan Abu-Salha, Yusor's younger sister, was recently recognized for her amazing artistic abilities by NC State University. You can see her time-lapse video of 3D abstract model-making here.
Living in the United States, we feel like we are so distant from all of the chaos of the world. The unfortunate reality is that there is oppression, there is hate, there is racism here in the United States and it could be right next-door.
It's tragic that the three UNC students lost their lives at such a young age but their families are hoping that their lives were lost for a better cause – to bring awareness to Islamaphobia and all hate crimes. Deah's mother, Layla Barakat, said, "His legacy is never hate. You don't respond back by hating the other. You respond back by love. By peace, by mercy. That's Deah's way."
Let's honor the lives of Deah, Yuson, and Razan by responding with peace and love. I am asking that each one of you give a cookie to your neighbor and share the love, regardless of their religion, color of their skin, or social status. Maybe if we get to know each other better we can see that we are more similar than we think.
You don't have to be pressured to make homemade cookies, they can be store bought. Just please give a cookie to your neighbor and help spread the peace, one cookie at a time.
Please encourage your friends and family to spread the love by snapping a picture of the cookie and sharing it online with hashtag #Cookies4Peace.