Sometimes it's nice to have a dessert option that isn't so heavy and overly sweet but that can still satisfy your sweet tooth. This Triple Berry Mascarpone Trifle is a light and refreshing end to your meal. The mascarpone cheese folded into the fresh whipped cream adds richness and an extra depth of flavor. A variety of berries layered between the mascarpone whipped cream are simply decadent. Oh, and did I tell you that it's sweetened with maple syrup? Yup, you can still indulge without the sugar. =)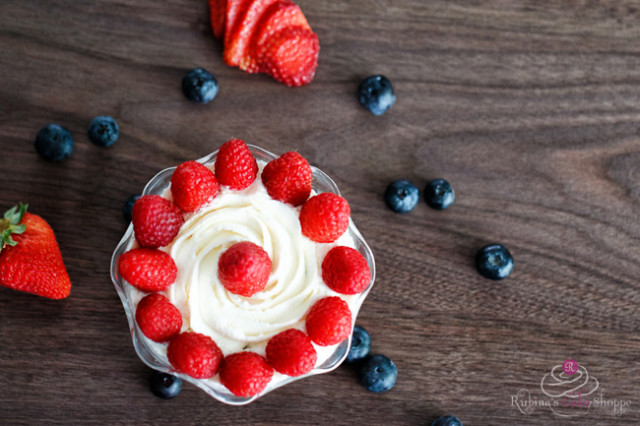 I recently made this Triple Berry Mascarpone Trifle at a potluck and it was a huge hit. I promised my friends I would send them the recipe and decided to share it with all of you as well. Hope you enjoy it as much as they did!
Triple Berry Mascarpone Trifle
Makes 4 individual trifles or 1 large trifle.
Ingredients:
1 cup cold heavy cream
1 cup mascarpone cheese (room temperature)
⅓ cup maple syrup
1 lb sliced fresh strawberries
1 pint fresh blue berries
1 pint fresh raspberries
Instructions:
1. Mix together the mascarpone cheese and maple syrup until smooth using a stand mixer with the whisk attachment or an electric beater.
2. Add the heavy cream and whisk until stiff peaks form.
3. Spread the strawberries on the bottom of the trifle dish.
4. Spread a layer of mascarpone whipped cream.
5. Spread a layer of fresh blue berries.
6. Spread a layer of mascarpone whipped cream.
7. Decorate the top with fresh raspberries.
8. Refrigerate until ready to serve.
9. Enjoy!
*This article was previously posted on BabyGizmo.com